Offers for families
Holidays for families
Holidays in Sardinia for families - holidays with children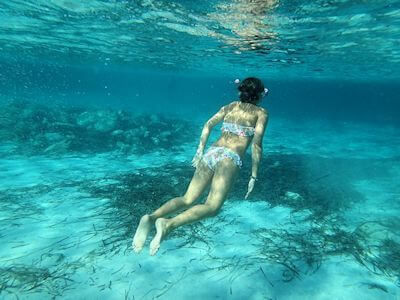 We offer families a wide range of options to spend a very nice holiday in Sardinia. Our cottages are situated in a quiet and well equipped location. The local sandy beach, shops and restaurants can be easily reached by foot. Our holiday homes and apartments are nestled in a picturesque landscape. The gardens of our holiday accommodations, lots of greenery and lots of meadows in the immediate vicinity offer the space necessary for children to run around and play.
In the area of our Sa Fiorida holiday homes there is a volleyball court, a football field and 3 bocce courts.
Active vacation with the family
Children like a lot of adventure, surprises and tension. Children want to be active, experience and see a lot. For our little guests we have also created a playground in the garden of our reception.
The local sandy beach is a whopping 15 km long. Plenty of space for romping and running around, building castles and snorkeling. Equipped with a snorkel and diving mask, you can discover the beautiful flora and fauna of the sea in crystal clear water. In the immediate vicinity there are other fascinating beaches, ideal for families.
We also rent bicycles of different sizes and also offer child seats for the bicycles. Numerous bike and field paths lead through the surrounding landscapes of our village Valledoria.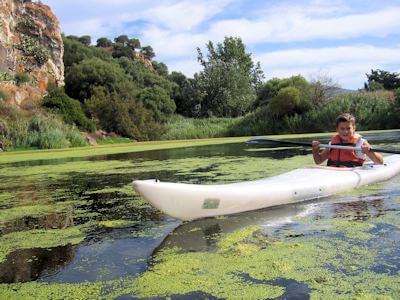 There is a wide range of sports and leisure activities for families in the surrounding area:
The Coghinas River meanders through the vast plain of Valledoria. During the canoe excursion (also suitable for small children) you discover a unique nature and make friends with the cows and pigs that graze along the course of the river. You will be accompanied by a variety of different bird species (great white and gray herons, kingfishers, flamingos, ...). Biology classes have never been as interesting as here. For this reason too, the European Union placed this landscape under its special protection. If you prefer to experience this trip by boat and are also interested in bird watching, you can let captain Giosuè drive you.
In the lagoon of the Coghinas there are also surf schools that offer surfing and kitesurfing lessons.
Our area offers a wide network of trails for hiking and MTB tours that lead through the flatlands as well as through the nearby hills and mountains.
In the villages of Castelsardo and Isola Rossa you will find providers that offer diving, sailing trips, sailing school and snorkeling tours along the coast.
Our region also has an exciting history of more than 5,000 years to tell. Among other things, you can visit the elephant rock, the fairy houses, the nuraghi, the castle of Castelsardo and various museums.
In our reception we offer detailed information about all offers. All mentioned and other services can be booked free of charge through us. Take also a lokk at our page Family holidays
We are at your disposal at any time, that means, you can also reach us outside the opening hours of our reception, since we live in the same place.